Infographic shows Sony's PlayStation has been the king of consoles
It's a big week in the console-gaming world. Today (November 10) sees Microsoft launching the Xbox Series X and S. On Thursday, Sony's new PlayStation5 hits the market.
The timing, it seems, could not be better. With COVID-19 restrictions limiting their options, more and more people are turning to gaming and esports for their entertainment. As early as July, eCentralSports was reporting a massive uptick in market capitalizations among the top six video-game companies. According to Charlie Smith's calculations, those companies—Tencent, Microsoft, Nintendo, Activision Blizzard, Electronic Arts, and Sony—saw a spike in valuations to the tune of $569.93 billion in the first five months of 2020.
Consider also that—in Canada, at least—retail sales have rebounded sharply from historic declines in the months following COVID-19 lockdowns. According to Statistics Canada's most recent monthly retail survey, sales in the category that includes electronics (and therefore gaming consoles) rose from $2,986,403 in April to over $5 million in July, with only a slight dip in August. Meanwhile, sales in the category that includes game software rose from $40,200 in April to $78,981 in August.
A timely look back
With the holiday-shopping season on the horizon—and new consoles hitting the shelves—retail sales are likely to continue trending upward.
With that in mind, it seems timely to look back at how previous consoles have fared. Yesterday, Visual Capitalist posted the following infographic. Using data from Statista, it compares the lifetime sales of the major consoles from Sony, Nintendo, Microsoft, and Sega.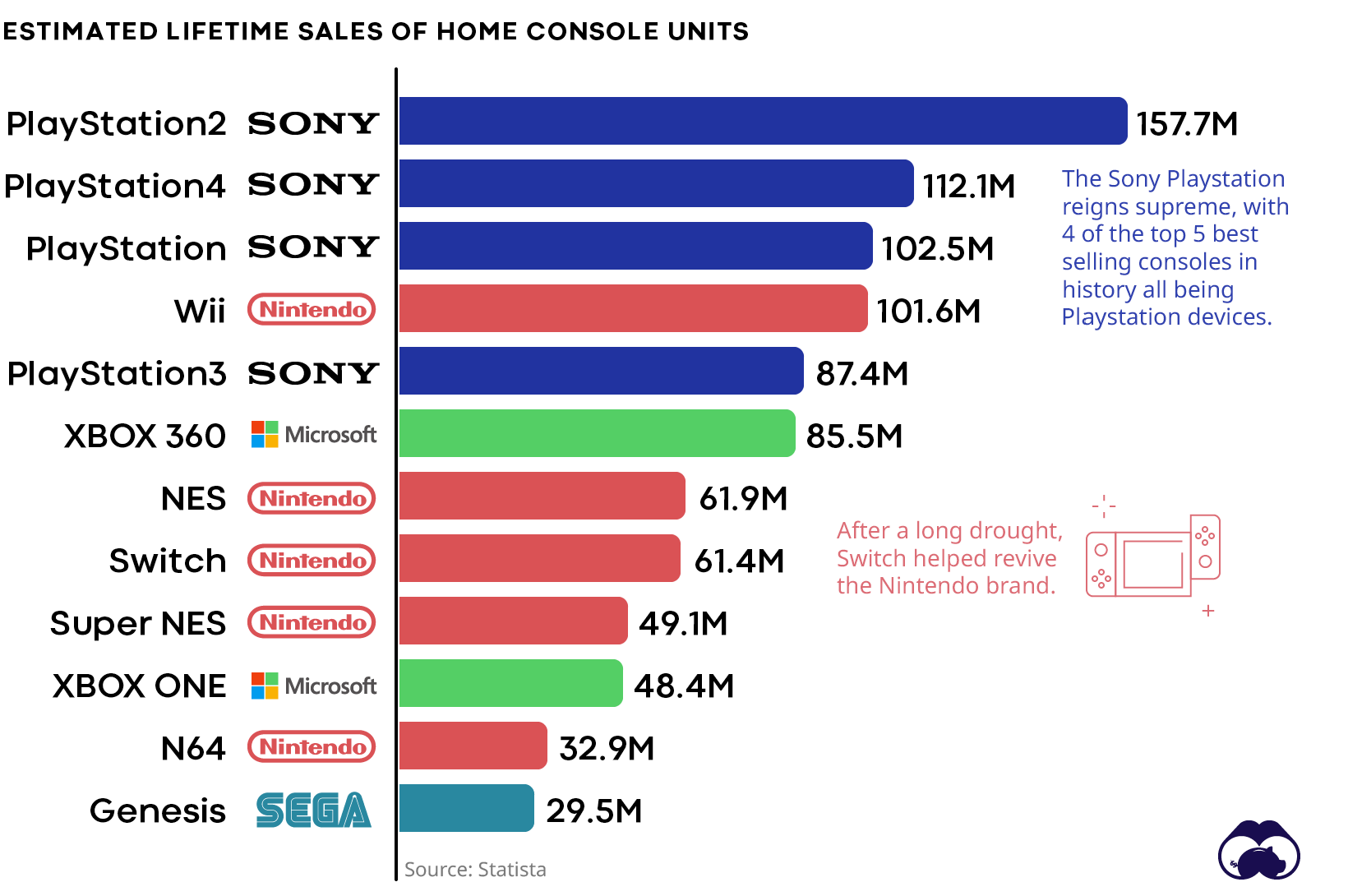 As Visual Capitalist's Aran Ali writes, "Xbox and Nintendo have put up a respectable fight, but the history of gaming console sales point to an extended era of PlayStation dominance."
In fact, as Ali notes, sales of the PS2 alone best both the Xbox 360 and Xbox One combined.
Ali writes:
Over time, Sony has only widened the gap between themselves and the competition. The spread in unit sales between PS3 and Xbox 360 ended 1.6 million in favor of Sony. In the following product cycle, Sony achieved only further dominance, with the difference between PS4 and Xbox One sales now sitting at 63.7 million units.
Look for history to repeat itself. A recent report from Ampere Analysis predicts that the PS5 will move 4.6 million units in 2020, with the Xbox Series X expected to shift 3.3 million. Expect that gap to widen; Ampere projects a combined total of 44.3 million for Xbox Series X and S by 2024, compared to 67.3 million for the PS5.
And so the cosmic ballet goes on. By which I mean the console wars.